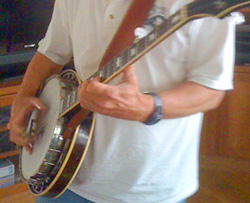 Man The Cannons!
Hailing from the epicenter of The Home That Is Down, The Bluegrass Battleship is a rootsy juggernaut of epic proportions. Can your mortal ears withstand their foot-stomping, unassuming onslaught? Oh, no, no, no, no, no. No, they cannot.
With six musicians, the Battleship is larger (and, of course, better) than most. The crew – Jane, Catherine, Scott, Marc, Eileen and Terry – are all on board having fun, and you will be, too — singing along, dancing, or just tapping your foot. It's impossible not to be part of this great American music. Played with skill and love for the music, The Bluegrass Battleship sails straight and true.
Take a listen to our demo recordings. Give us a call, and we'll sail our ship to your event.